The Rotaract Giving Certificate is the recognition of a Rotaract Club for uniting to support The Rotary Foundation so that Rotaractors can keep doing good in the world through life-changing projects and grants. To qualify, a club just needs at least five of its members to give a total of $50 to The Rotary Foundation.
The projects are made possible when Rotaractors take action and donate to The Rotary Foundation. Help the community, empower fellow Rotaractors around the world to make a difference and help one's Club earn its Rotaract Giving Certificate by making a gift to the Foundation today.
We asked selected Rotaract Clubs in the Philippines about their experience in donating to The Rotary Foundation and receiving a Rotaract Giving Certificate.
RAC Angat D3770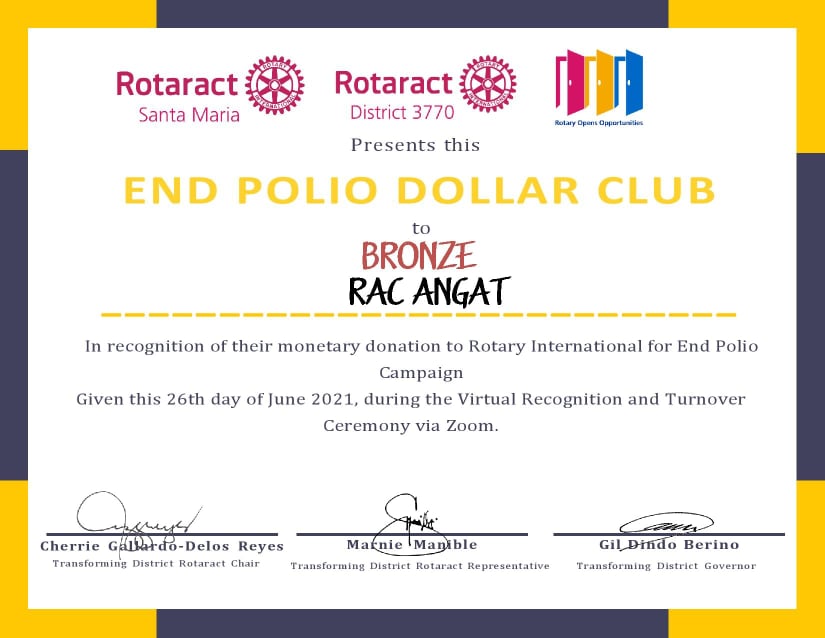 What was your strategy to achieve this recognition?
Since most of the members of our club are young professionals who have the ability to donate, we encouraged them to donate to be able to raise the minimum amount of donation. Five of our members agreed to pledge $10 each.
How much did your club donate?
We donated $50 for the End Polio Campaign.
Why did your club donate?
We believe that even the little amount that we share can change and end polio. Being a club with most members as educators, we want the children, not just in our country, but the whole world not to be threatened with the spread of Polio. We want them to be healthy and fit and be able to study and achieve their dreams and ambitions.
RAC ND -RVMCC D3870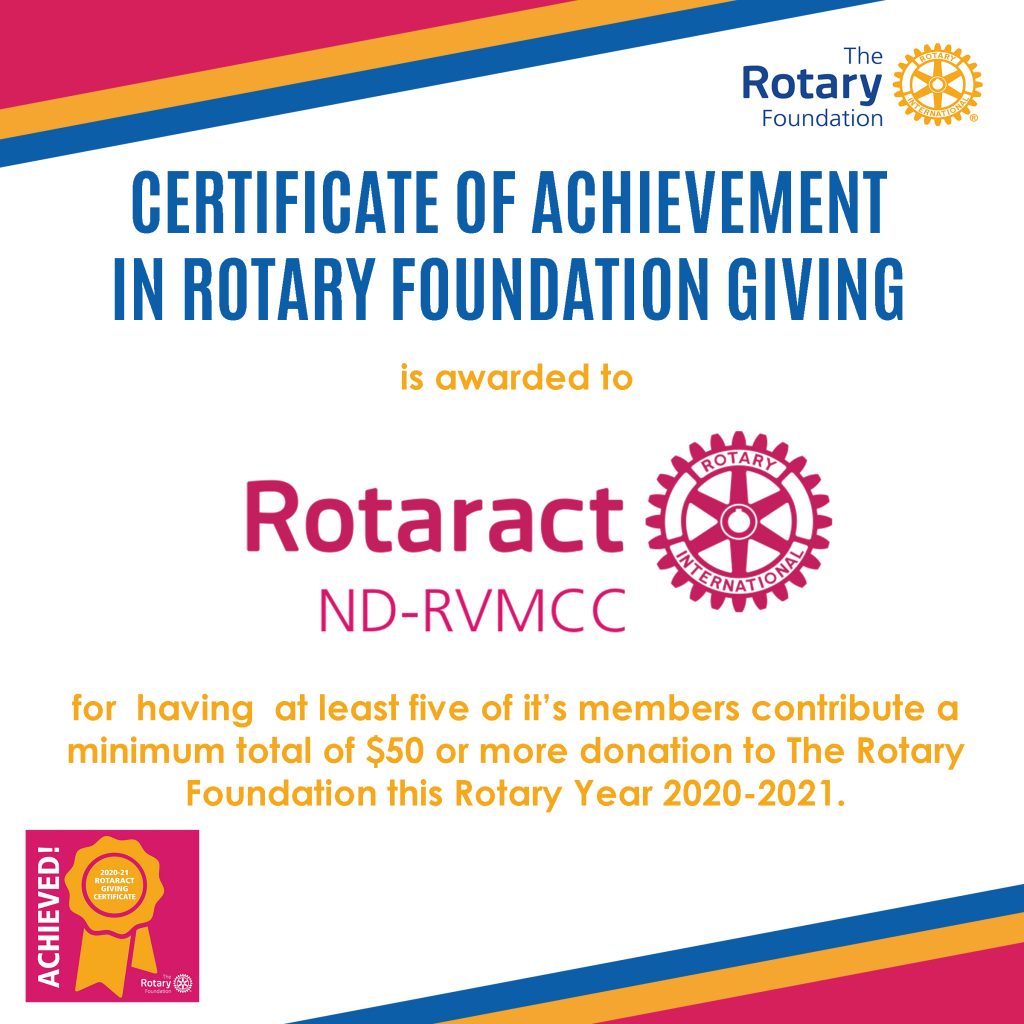 What was your strategy to achieve this recognition?
The fact that our club is a school-based one, and still in the phase of inception, this certificate of achievement represents nothing more than a courageous endeavor to carry off ambition. Setting goals and pursuing it is one of our objectives strategy in achieving this recognition. And for us to receive this designation, we made sure to have a purpose, standard, and people who have the will to pursue our goal not just as individuals, but as a community. We aspire, desire, and inspire to transform ourselves and our community. This made our path going straight up to this journey.
How much did your club donate?
The amount that we donated is about $65 USD coming from the officers, general members, and club funds.
Why did your club donate?
"Service above self and Fellowship through service" is our motto, our purpose. The time we decided to join the club is actually the moment we gave ourselves to the community. Hence, the initiative and effort to convene and donate. Although our donations are the smallest compared to the other clubs, we believe that even it is only a small amount, it will save life free from polio and for other problems that our community is facing right now. We're very glad for this opportunity to help those who are in need of vaccines. As Rotaractors and Marians at heart, we believe that a polio-free world is a world of children with smiles, freedom, and children with brighter futures.
RAC CENTRAl TARLAC 3790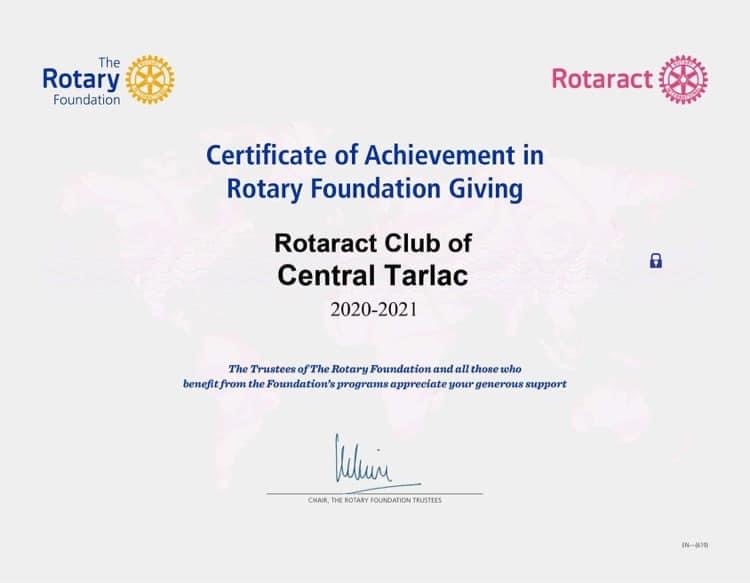 What was your strategy to achieve this recognition?
Before my term as the President of our club ended, a friend donated cash for us to have a service project. Unfortunately, we became busy to prepare for the project, that's why we decided to donate the cash to The Rotary Foundation to help not just in our area, but the whole world. His donation and some funds from our club were donated to the TRF.
How much did your club donate?
Our club donated a total of $50 to the The Rotary Foundation.
Why did your club donate?
We read about the The Rotary Foundation in Rotary.Org and was informed where the donations go. As a Rotaractor, we want to help in every way possible. And we know, even a small donation has a big impact in helping our community or the whole world in these times.
RAC NUVALI 3820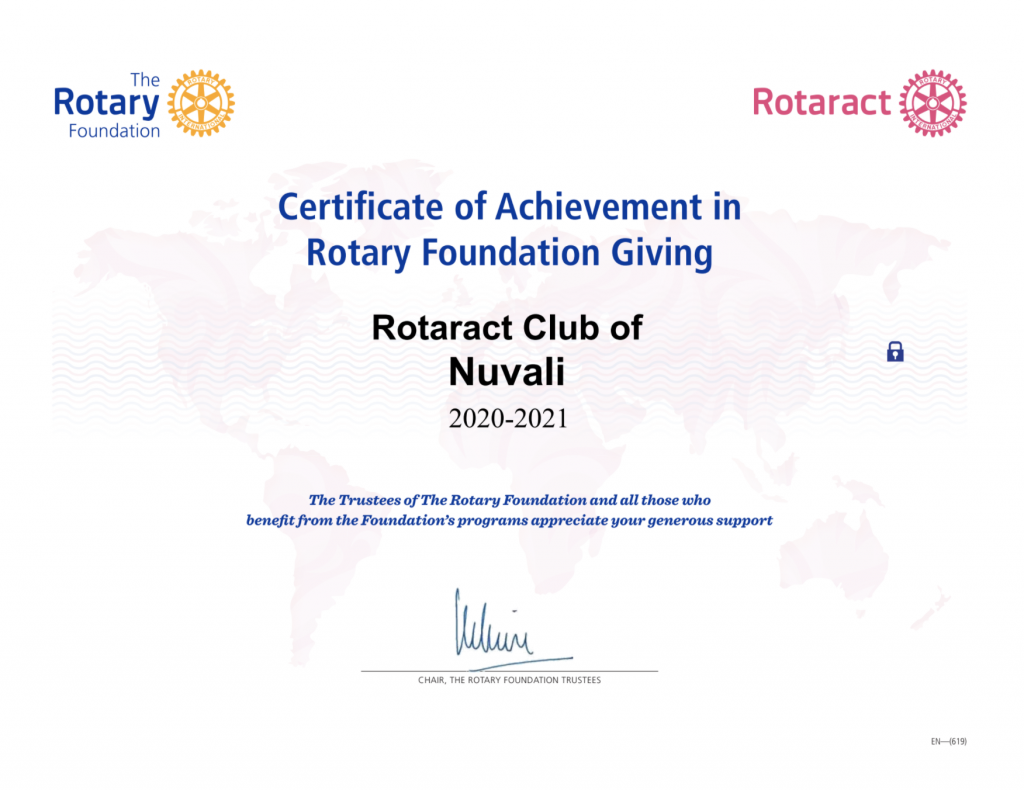 What was your strategy to achieve this recognition?
The notion of paying forward was never an obligation for us. It's a mission, an act of gratitude, and a hope that whatever we are doing, we are changing a life somewhere. How about we expound why we gained such view?
When we started as a small Rotaract club, our pioneering members were mostly scholars or sponsored. Our parents couldn't have afforded our own college education alone, but with the financial support of total strangers, we all graduated and are now holding well-paying jobs. Some are in business, some are in industries, and some are in the academe. The gratefulness that we have extends beyond the desire to appreciate; we desire to pay forward in any way we can, to any entities we could reach, any time we are awake. Donation was only one of the ways we can extend our service to the community, and with the limitations of lockdowns, it narrowed our options to a few faculties, making donations one of our priorities.
How much did your club donate?
On October 2020, members of the board donated an accumulated amount of ₱2500 thereby achieving the Rotaract Club Giving Certificate. By February of 2021, the rest of the members contributed a total amount ₱3,000 fueled with the hope of eradicating polio, promoting peace, improving the lives of developing communities.
Why did your club donate?
The officers never pressured the members to contribute, not even reminding any goal. Simple reminders were given together with reasons why donation is our means of gratitude to community. We were happy to be recognized for our selflessness, but we are more happy to know that our small donations will be used for the betterment of someone's life.