As soon as you open that door to your first community activity with Rotaract, you would immediately be greeted by friendly smiles and open arms—members glad and giddy to get to know a new kid.
You would smile back, shyly or with confidence, hoping that these strangers would eventually turn into friends.
Before you know it, you'd be thrusted into a circle and get thrown with an avalanche of questions, "What's your name?," "Where are you from?," "How did you come across Rotaract?"
The answer to the last question always lies in the same premise. Somewhere, something in your heart was calling you to serve.
While we know this for sure, we wanted to dig deeper and asked seven Rotaractors from different districts across the country how exactly did they discover the organization and what pushed them to seal the membership. They also shared their personal experiences as a member and words they'll tell an aspiring Rotaractor.
VP LEANDRO MILAN, DISTRICT 3780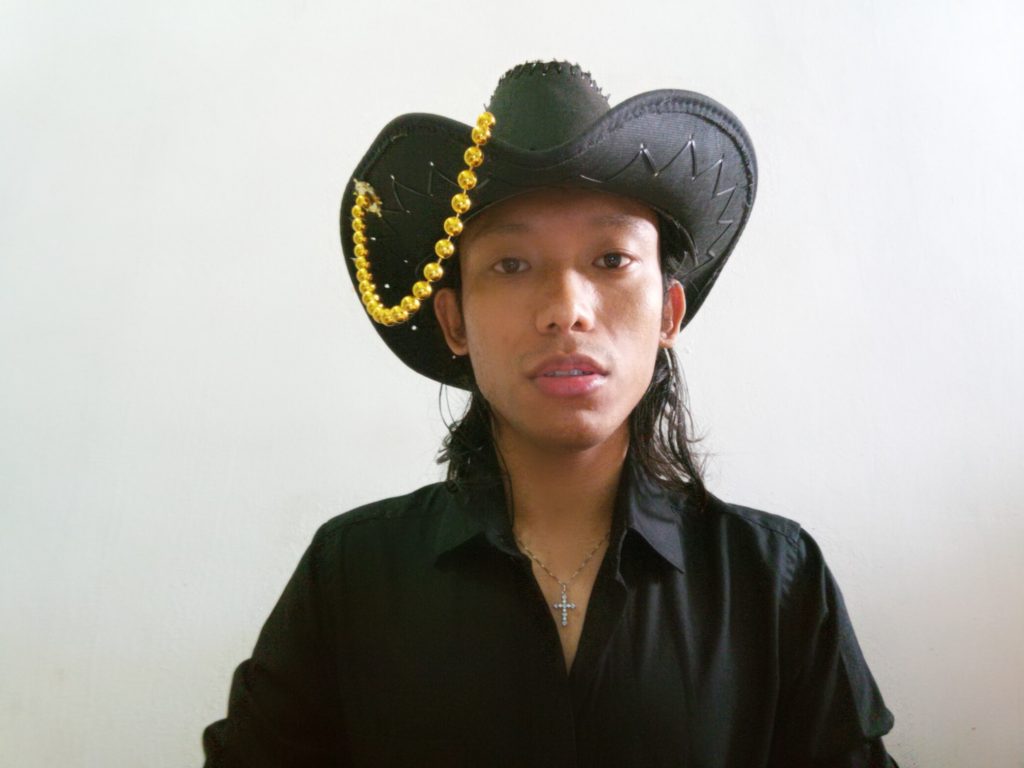 How did you come across Rotaract?
I actually used my Facebook account to search for any Rotaract clubs in Quezon City and what I find funny was that I just randomly chatted with these clubs to tell them of my interest to join and be part of their growing family. My goal then was whoever would respond first would be my homeclub and voila! It was RC of Camp Karingal where I joined as a Rotarian. Months later, I discovered that the RAC Quezon City Central was the second club to respond to my query, specifically PDRR Darin Gatongay. At that time, I was really unsure what the difference between Rotaract and Rotary was. I did have a dual membership having been appointed as RAC Vice President under PP Tristan Abues and as a Rotarian of RC Camp Caringal.
For me to cross the world of Rotaract formally, I attribute it to three great presidents. First is Francis Villamil who I first met in 2018 at a youth coalition called SKC Philippines where we both served in the national council. Second is current District Rotaract Representative of the Stellar District 3780-DRR Dianna (SKC Phil, National Director for External Affairs) and our inspiring past president Karl Cedric Loyola.
What made you decide to join Rotaract?
Aside from the fact that I really love to volunteer and be involved in community projects and initiatives, PP Ced Loyola and DRR Dianna Isabel Desuyo did not stop in pursuing and encouraging me to join Rotaract and be a member of SFDM Malaya Achievers. I was hesitant to join the club since I felt that I was not good and not enough to be in line with them. But because of PIYC friends, like-minded people who are already Rotaractors at that time, James Advincula who joined-SFDM MA, Magic Alvarado of RAC Metro Bacolod, Iza Karimuddin of Zamboanga and PP Vincent Naval of RAC Miraculous Medal-Sucat, I said a firm yes. It was because these people felt like they were my family. With them, I don't need to pretend to be someone else or hide my feelings. With them, I felt that I belonged.
How has Rotaract changed you as a person so far?
I am still labelling myself as a neophyte i even though I have been here for quite some time. I know that there are still vast amounts of things that I need to know such as fully understanding what Rotaract is and a Rotaractor is.
So far, Rotaract has taught me to become more confident than ever in being a leader—a leader who has a heart to listen to his colleagues and one who was afraid to commit mistakes and to mess up sometimes. I am now bolder who continuously improves and betters himself. Lastly, I am blessed and grateful for all the training and workshops that Rotaract gave me and is currently in my professional advancement.
What would you tell an aspiring Rotaractor to convince them to join the organization?
I will tell him/her that Rotaract is a family and not just an organization. We value relationship and commitment that cannot be seen in most youth-led organizations. In Rotaract, we build a strong foundation–a foundational relationship and understanding that gives us a big chance of winning any challenges and a ghost of chance of losing. Opportunities, experience, confidence and life-long friendships are just some perks of joining Rotaract.
JOSHUA BRAM OLVIS, PAST PRESIDENT OF ROTARACT CLUB OF MARIKINA VALLEY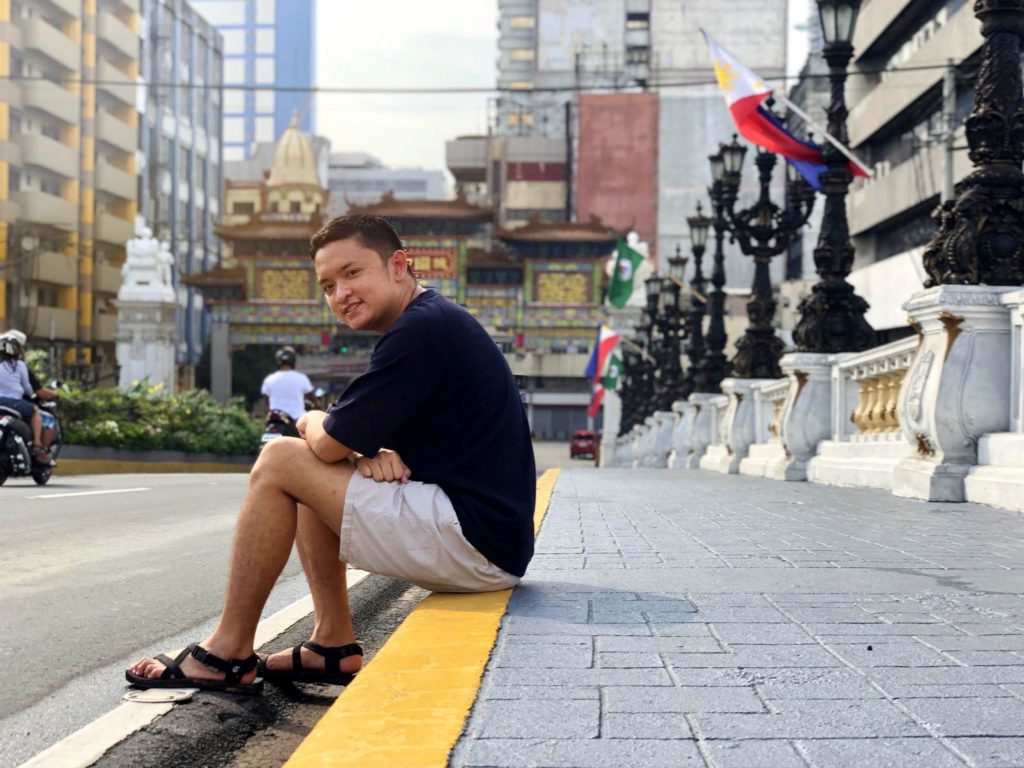 How did you come across Rotaract?
I came across and knew Rotaract simply because my Tita is a Rotarian of our sponsoring Rotary Club. She is the one who introduced me to the world of Rotary and service in the community through Interact and Rotaract.
She first created and managed the first Interact Club of Marikina Valley in the year 2015 and I became the Interact President during that year until 2017. Then 2018 comes and I was appointed as the Very Inspiring President of RAC Marikina Valley 2018-2019 and elected again as the Champion President of our club last 2019-2020. The rest is history.
What made you decide to join Rotaract?
Voluntary community service to others without expecting anything in return is the reason that made me join Rotaract. I want to be the change that I want to see in my community through my selfless act of services to my fellow citizens that can contribute to the greater good.
How has Rotaract changed you as a person so far?
Being a Rotaractor so far changed me as person through seeing differently and uniquely the communities and the world I lived in. Rotaract made me realize that the world is so diverse, full of many good people and good things. Diversity, I believe, can be the instrument of change we want to see in the world in the name of fellowship through service. Also, Rotaract changed my perspective as a person to always look for the brighter things in life even though it is dark, there is always light if I am willing to see it and be that light.
What would you tell an aspiring Rotaractor to convince them to join the organization?
I would proudly tell an aspiring Rotaractor to join the organization simply because one can inspire, influence and transform lives whether it is a small or big act of selfless service. Also, join Rotaract because it is not just a platform rather a family that can help you in life as time goes by. As one family in Rotaract, you can bring beneficial services and changes to the community. Furthermore, join Rotaract if you want to unleash a leader in you. Rotaract helped me bring out my leadership skills through fellowship with other people and professional development in every service projects that we do. Lastly, join Rotaract simply because you are much willing to offer your time, talent, treasure and service to other people and community without expecting anything in return. Just help to spark change to the world.
SCARLETT JADE MAPA, ROTARACT CLUB OF CEBU FUENTE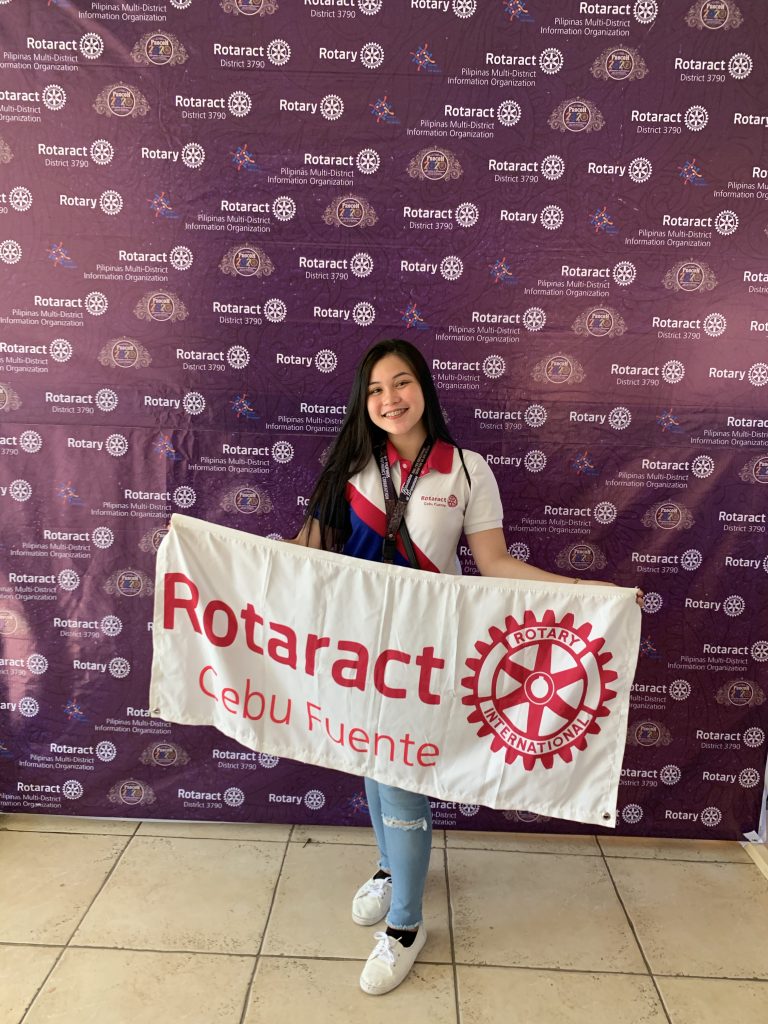 How did you come across Rotaract?
I came across Rotaract when I was 17 in my first year of college. We partnered with the club for a Christmas activity with kids and their families. As a struggling student burdened with many problems at home, it was a relief to be surrounded by people who shared the same passion of serving others. I was glad to be able to work with young individuals who made it a priority to bring happiness to other people through service. It was a significant time because it was the Christmas season and seeing the smiles on the children's faces and on their parents' as well made my heart melt and I saw how our efforts made a difference to them.
What made you decide to join Rotaract?
I decided to join Rotaract because I saw that it consisted of a group of people who were passionate to serve others, to make a difference in their lives, and put a smile on their faces. It was a difficult time in my life when I decided to join the school-based club. I was inducted but due to financial constraints I was not able to attend even a single activity. It broke my heart knowing I wanted to be part of the life-changing activities of Rotaract, but I couldn't because of personal reasons.
I made it one of my goals to be able to rejoin Rotaract when the time was right. Indeed, years later, when I already found myself in a better place, the opportunity arose. I firmly believe that there is a right time for everything because by the time I rejoined Rotaract, I was already more than willing and capable to start making a difference and serve other people. I love how in Rotaract you are able to participate in situations where you know your ideas will be considered and your efforts will be appreciated. It becomes an avenue for people to help while at the same time build friendships with others who are equally as passionate and dedicated. I have come to realize that Rotaract is not just an organization where a group of people gather occasionally for an activity, but that it is a family that continues to grow over the years, where everyone continuously learns from one another and keeps the fire burning in each other's hearts.
How has Rotaract changed you as a person so far?
In my 3 years of being in Rotaract, I have learned a lot not just about the community and the world around me but also about myself. Sometimes, people are hesitant to try because they are afraid that what they will never be enough to change the lives of others, that their efforts will not make a difference, that extending a helping hand will only be a waste of their time. But in Rotaract, I have come to realize that you don't need money or material things in order to help other people. I was able to make a difference in my own, small ways. All you need is the passion to serve, the willingness to commit, and the heart to empathize with others.
As a Psychology graduate, working with other people, being around them, and responding to their needs is a huge deal to me. I have learned to be more selfless and prioritize the needs of others. I have developed a deeper understanding of how the world works, how some people in society are in need of resources and how we can extend a helping hand to them and connect them with others who can make their lives better.
Growing up constantly struggling and having no one to turn to is an experience I do not want others to go through, especially kids and young individuals. Being in Rotaract allows me to be there for others and give them the support they need, the support I was never able to have when I was growing up. Knowing that I have the power to make a difference in their lives, even through my small efforts, continues to keep me going and reminds me that I can help so much more other people as long as I am a part of Rotaract.
What would you tell an aspiring Rotaractor to convince them to join the organization?
Rotaract is not just an avenue for an individual to bring about change in the world. It is also an opportunity for them to bring about change within themselves, to be able to work with their strengths, maximize their potential, and develop their professional skills while working with others. Nowadays people are hesitant to participate in anything unless they know they will be able to get something in return. It is true that those who have no heart or willingness to serve will always question our motives for serving and helping others.
I know a lot of people who ask me if I get paid for my volunteering or if it is worth it to commit to an organization, if I don't consider it a waste of my time always going out of my way to help. Not everyone will understand that is absolutely priceless seeing the smile on the faces of your beneficiaries, knowing that your activity has made a lasting impact on a community, or how life-changing it is to be able to inspire more people to help through our activities and projects.
Such rewards after a successful activity, outreach, or project are worth so much more than money. To convince an aspiring Rotaractor to commit to Rotaract, I would simply tell them this: that they are enough. They have so much to bring to the organization, the world becomes better with them and their commitment to serve, and their presence, commitment, passion, and time are really all they need to be a part of the global family that is Rotaract. The world needs more Rotaractors, and there can never be too many of us – as long as there are people who need our help, we will always be there for them, in the best way we know how, and that is through service.
RICA VEGILLA VIRTUDAZO, PAST PRESIDENT, RAC MANGATAREM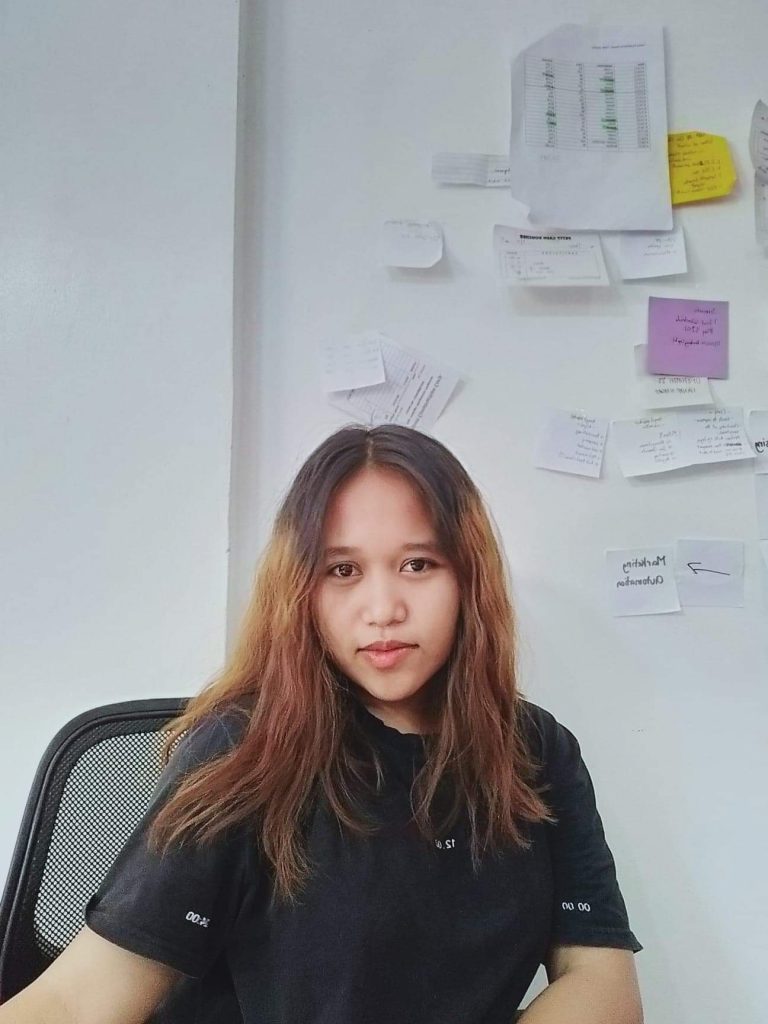 How did you come across Rotaract?
I'm passionate about helping other people. While searching about the organizations that really help and bring about changes to people's lives and to the communities they belong, Rotaract caught my attention. Gladly, my friends invited me join and provide a helping hand to others. I am happy that I know the founder of Rotaract in our community.
What made you decide to join Rotaract?
As I said earlier, my friends invited me and I really want to provide a helping hand to our community—to share my knowledge and to show people that there is hope and opportunity for everyone.
How has Rotaract changed you as a person so far?
I am a very shy person and Rotaract helped me to overcome that and my other weaknesses. I gained friends. Also, I believe that I/we can inspire people to become more enthusiastic in helping others.
4What would you tell an aspiring Rotaractor to convince them to join the organization?
To aspiring Rotaractors, follow your heart. Be the good person who you want to be. I think everyone knows what the joy we feel when we help, give and make everyone happy. If you're looking for an avenue to show your ideas and talents to help others, this is where you belong.
STEPHEN LEO FERRERA, DISTRICT ROTARACT REPRESENTATIVE-ELECT RY 2022-2023, ROTARACT CLUB OF METRO VALENCIA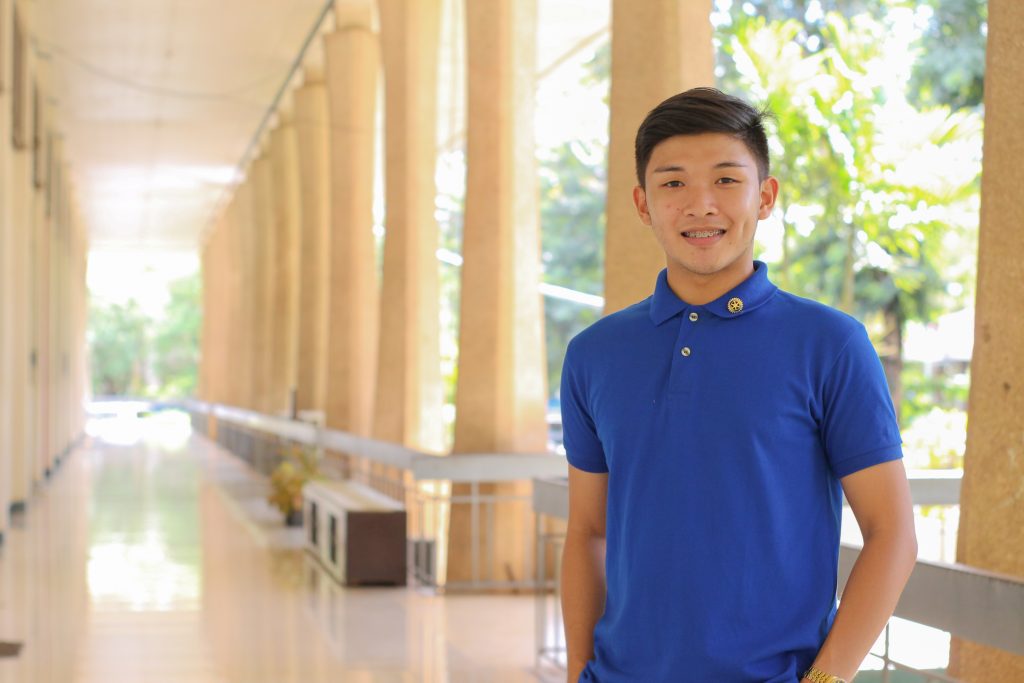 How did you come across Rotaract?
I came to know Rotary about nine years ago because of joining the TAGISAN NG GALING AT TALINO of the Rotary Club of Metro Valencia. I was a participant in this annual event of RCMV until they invited student leaders of Valencia National High School to become members of the Interact club of VNHS. I got to serve the Interact club as a member and officer for two years. I also met new faces of leaders in the community who became our partners in service, the Rotary and Rotaract Club of Metro Valencia.
Four years ago, I was invited and inducted as a member of the Rotaract Club of Metro Valencia. I was elected as Club Treasurer and unexpectedly appointed as President for RY 2019-2020. I'm very hesitant to accept this opportunity because I doubted myself. I'm not that confident to lead the club. Other than that, I don't have enough resources, and I can't waive good financial support considering that I am still in my 2nd year in College. Privileges like this will eventually turn to regret once the opportunity is missed, so, with all my heart for service, I took a firm grasp of everything. I am the youngest among the Champion Presidents of the Rotaract District 3870. With hard work and dedication to achieving our goals as a club, we were awarded a gold citation during the Champion Year. I may not be the outstanding president but the club helped me make history for the inspiring and champion club of Metro Valencia.
What made you decide to join Rotaract?
I was just a simple student back then who loved to dance and only wanted to have fun. Still, I couldn't fathom being affiliated with such organizations and became a student leader, knowing I was always restrained with doubts, hesitations, and stage fright. Even so, I motivated myself and was able to see how beautiful it is to serve and touch other people's lives. Right before 2017 ended, I could feel the difference and the steps of
growth and development that I had undergone by simply joining Interact were visible.

The performer student has now become a Rotaractor. My Interact journey is my stepping stone in becoming who I am as a Rotaractor, a son, and a servant leader. The causes of Rotary, fellowship, friendship, training, travel and our humanitarian service made me stay in Rotaract and continuously serve as Rotarian in the future.
How has Rotaract changed you as a person so far?

As a Rotaractor in my fourth year of service, people around me could even attest to the leadership and management skills I have gained. I could now easily stand out confidently and I got refined from being an introvert to being an extrovert and still progressing each day. I also became competent as to how problems are solved. I can also now relate to different people as a matter of fact I was able to grow my networks by visiting other Rotaract and Rotary clubs. Through the skills I got from the club, I was given appointments to district positions right after my presidency. All I want to see is change, serving people tirelessly, and after all, seeing a positive impact that gives joy in my heart. With the power of collaboration, I know that we, Rotaractors, can change the world. And we can make that change by giving back to society and be that backbone that our community needs I always believe that leadership is not about the role we hold in an organization; instead, it is about the action we choose to take.
Rotaract, for me, is more than just service and professional development to the community. It is a family in which the love portrayed inside is what is shared outside.
What would you tell an aspiring Rotaractor to convince them to join the organization?
Our embodiment of being a Rotaractor is a message and inspiration for others and to see the purpose of becoming a member of this service humanitarian organization. As a Rotaractor, I would like to ask them if they believe in the power of collaborative service and if yes, they are welcome to Rotaract. I want them to know that Rotaract doesn't choose people, but rather the people chose Rotaract. If they have the heart to serve and the openness to learn, we can make a difference and build a better tomorrow. It's not always late to join Rotaract but you are just on time.
NERIE ANN DELOS SANTOS, CHARTER PRESIDENT, ROTARACT CLUB OF MABALACAT-CLARK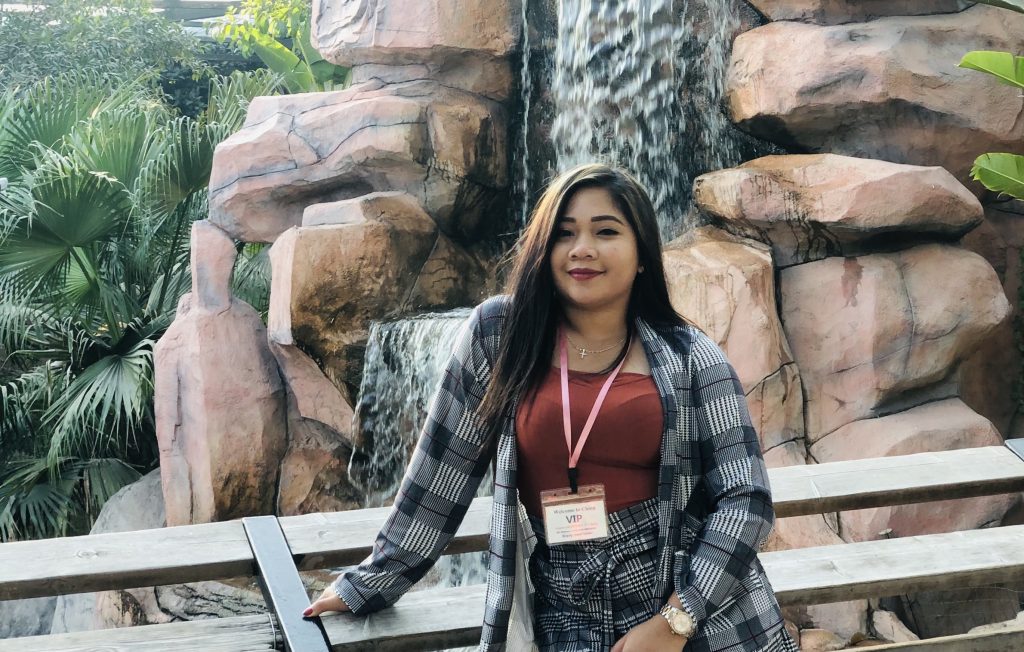 How did you come across Rotaract?
Back in 2014, I wanted to be a volunteer but I didn't have an idea on which organization I should join. I had a classmate who was a Rotaract club president in 2015 but I didn't know what Rotaract was at that time. One day, while I was walking in our school hallway, I saw an infographic poster about Rotaract. Then the following week, they had an informational meeting in which they presented their past community engagement projects. My heart told me to join so after the meeting, I immediately talked to my classmate to register me as a member of their club.
What made you decide to join Rotaract?
Whenever I get a chance to help others, I always aim to give back to the community even in the smallest and simplest acts. I wanted to turn my passion into action so I decided to join Rotaract. In 2016, I became the charter president of a community-based club, Rotaract Club of Mabalacat-Clark. I stayed with our organization because I am in love not only with our purpose but the people that surround me. Our club members became my second family. Being a member of Rotaract awarded me a lot of opportunities to develop my skills. I was able to turn my ideas into projects that will help the community. One example is our current English Language and Call Center Training project that helps anyone who is unemployed and wants to enter the call center industry by providing a 20-day training, cash allowance, and job placement opportunities to different BPO companies.
How has Rotaract changed you as a person so far?
Rotaract became my platform that built my confidence, communication skills, and leadership abilities. It shaped my life perspective, expanded my knowledge, and practiced qualities that made me a better person. For the past five years in serving the community, Rotaract gave me an opportunity to do and achieve amazing things as a leader that I'd never imagined. I learned the value of friendship and the meaning of service. I found my happiness by loving others with nothing in return but countless smiles.
What would you tell an aspiring Rotaractor to convince them to join the organization?
You don't have to be rich or be in politics to extend a helping hand to your community. Joining Rotaract is like opening a new door full of opportunities that can change your life forever.
JAMIL SEBEL IDILIS, PAST CHAMPION PRESIDENT OF ROTARACT CLUB OF MSU TAWI-TAWI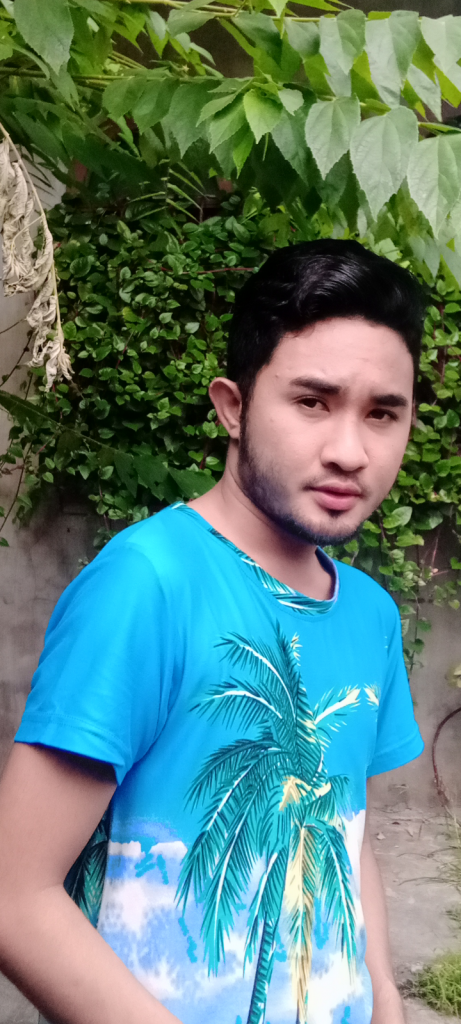 How did you come across Rotaract?
2015 the year when I was stepped into my first year of college. I was a nobody then; nobody
knew who Jami; was. It was like I was Alice in Wonderland—there was so much to see, so much to explore, while being afraid and unsure of the future. I wasn't really familiar with Rotary, but I heard of the Rotaract Club
of MSU Tawi-Tawi un 2016. Seeing their photos posted on Facebook enlightened me to join their Club. I was so amazed with their projects that I pushed myself to become a member. Alhamdulillah, I passed the phases and on 2019, I was elected as the Vice president of the Club. I was then chosen as President Elect and soon became a champion president.
What made you decide to join Rotaract?
I remember that when I was in 4th year high school, one of my plans when I get to college is to join an amazing organization for me to be known by many. But not for fame; I just wanted for people to know me better and for me to get to know them. Civic engagement has been really making my voice and story shine. Joining Rotaract presented many opportunities to learn more about myself, my goals and my strengths, generating ideas, or serving others. Learning how other people handle certain situations have tested my knowledge. This self-awareness will be beneficial in my future career.
How has Rotaract changed you as a person so far?
Rotaract has changed me a lot from a boy into a man. A man who always gives hope to people, a man who never leaves his people in times of suffering. That's how Rotaract changed me, molding me to learn how to engage with diverse groups of people. Learning how different people respond and react to certain situations help me develop my skills in presenting and implementing ideas.
What would you tell an aspiring Rotaractor to convince them to join the organization?
With all honesty, I would tell them, "Wanna be a great leader? Rotaract is the golden key." This saying will be presented with opportunities to improve in public speaking and gain confidence in yourself, myself and themselves as an individual.