Eighteen months.
It has been eighteen months, a year and a half, since the COVID pandemic swept through our nation. Since then, it has left behind a staggering number of those affected: over 2.5 million cases of infection, and around thirty-eight thousand have succumbed to it (as of this writing). Furthermore, it has led to a daunting increase in unemployment rates, which in turn, also led to an increase in hunger rates. Truly, it has been a difficult eighteen months.
Alongside the pandemic, none have been more affected by it than our fellow countrymen, especially those whose livelihoods are on the streets. These are the people who continue to work outside, despite the risk of the disease, and amidst the restrictions placed.
We wonder, what drives them to continue, even within this situation? What's their story, and what is their message of hope?
These are the questions we hoped to answer, as we went around our hometown, Bacolod City. Here are the people whom we've found and listened to, and whose stories are worth sharing.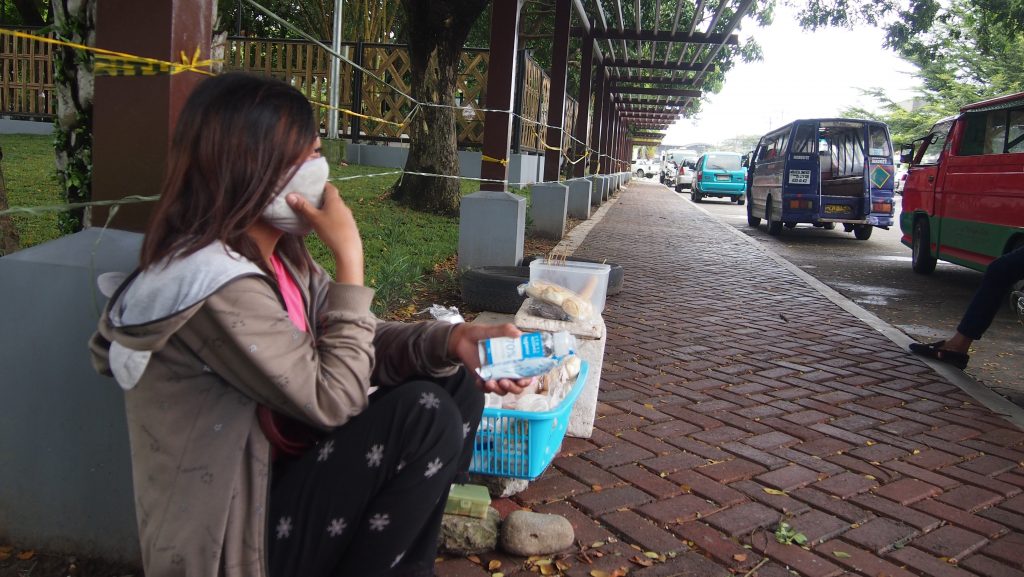 The first person we interviewed was Jaja, aged 21, a street vendor and a Grade 11 student from Kabankalan. She was tending to her spot on the sidewalk, selling coffee and pandesal to the local jeepney drivers and passers-by. Even with few words, she more than enough managed to convey her story:
How long have you been selling here at this spot?
Sang manug two months pa lang kami diri. 

(We've [family] been here for just two months.)
In your opinion, which was more troubling for you? Before the pandemic, or right now, during the pandemic?
Subong gid ya eh. Amo nga ga amo ko ni, para ka kaun.
(Right now, definitely. This is why I do this, so I can eat.)
In your experience, have you received any help from the local government?
Sa akon lang, daw wala gid.

(In my opinion, it seems there was nothing.)
During the lockdown, did you receive any ayuda (financial aid)?
Sa amon, wala.

(In our community, no.)
If you had the chance to speak for what you need now so it can be provided, what would it be?
Nga para bala sa pamilya, nga tagaan nalang bala sang ubra [nga regular, para maka provide].

(Something for my family, like even being given a regular job, so I can provide for them.)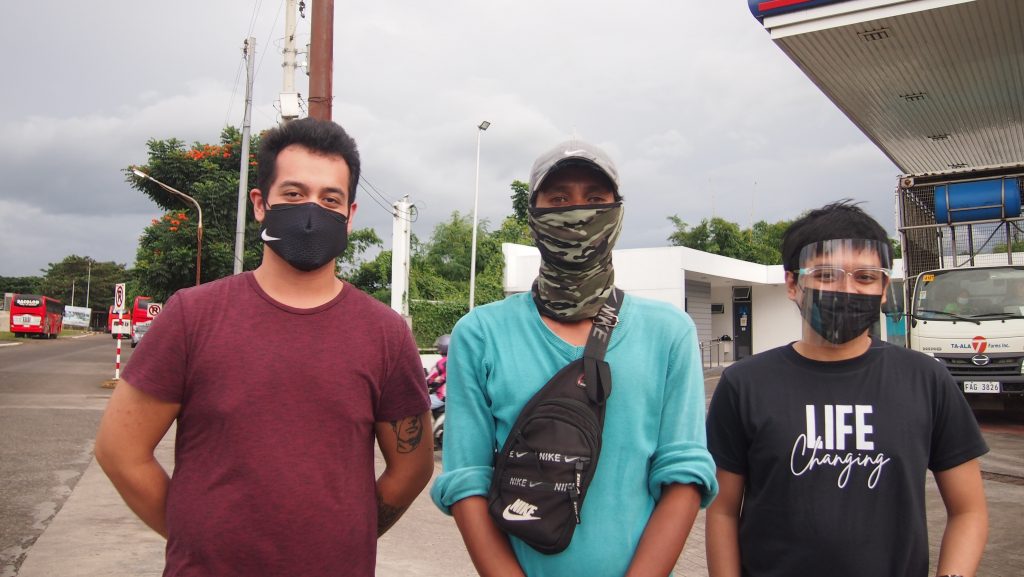 The next person we talked with was Manong Rodjan, aged 39, a tricycle driver and a hard-working father of two. We met him on the sidewalk, when he hailed us down and asked if we were looking for a ride. After some brief introductions, he too shared his own story on how this pandemic has affected his livelihood:
How is your fare during this pandemic?
Daw ka pigado gid subong, COVID daan. Wa-ay ang COVID, mayo ang biyahe, pero subong may COVID, daw duwa na ka tuig, pigado gid ya.

(It's very poor right now, especially because of COVID. Without COVID, the fare was good, but now with COVID, it's been like two years, it's very poor.)
Are there restrictions on how many passengers are you allowed to ride?
Oo, duwa. Two passengers lang kami kada tricycle, kay bawal man ang damo, kay sa social distancing… Isa sa tubangan, isa sa likod.

(Yes, two. Only two passengers for each tricycle, because too many are restricted, due to social distancing… One in the front, one in the back.)
Have you received any support or ayuda (financial aid) from the government?
Sang pag sugod gid, sang last year. Pero subong, wala na. Wala gid kami kanday tricycle [drivers]; mga food pack, wala. Pag ECQ sang Bacolod, amo to nga iya ka SAP, tapos may mga food pack man to sila, pero daw duwa-duwa lang. Subong, wala na.

(When everything started, last year. But now, not anymore. Us tricycle drivers haven't received anything like food packs, nothing. When Bacolod was under ECQ [Enhanced Community Quarantine], there was the SAP [Social Amelioration Program], and there were also food packs as well, but it's like only two for each. Now, not anymore.)
If you have anything to say, to everyone or even to the government, in the hopes that this situation would soon change for the better, what would it be?
Ang akon tani mahambal, amo ni sitwasyon subong, akon lang tani pangabay, tani bala nga ang pigado, for example sa amon mga driver, dapat tani may ano nga bulig man nila sa amon, kay subong, biyahe pigado gid eh. Amo lang na mahambal ko sa gobyerno. Okay lang na kung soltero ka, te ako ya pangabuhi man ko, duwa pa ka bilog bata ko. Amo na daw ka buraot gid. 

(What I would like to say, with this current situation, what I would like to ask for is that 

hopefully the poor, like us [tricycle] drivers, for example, should be given any help at all from them, because now, our income is really low. That's all that I would like to
say to the government. It would've been okay if you were young and fit, but I have a living to do, especially since I have two children. That's why it feels so unfair.)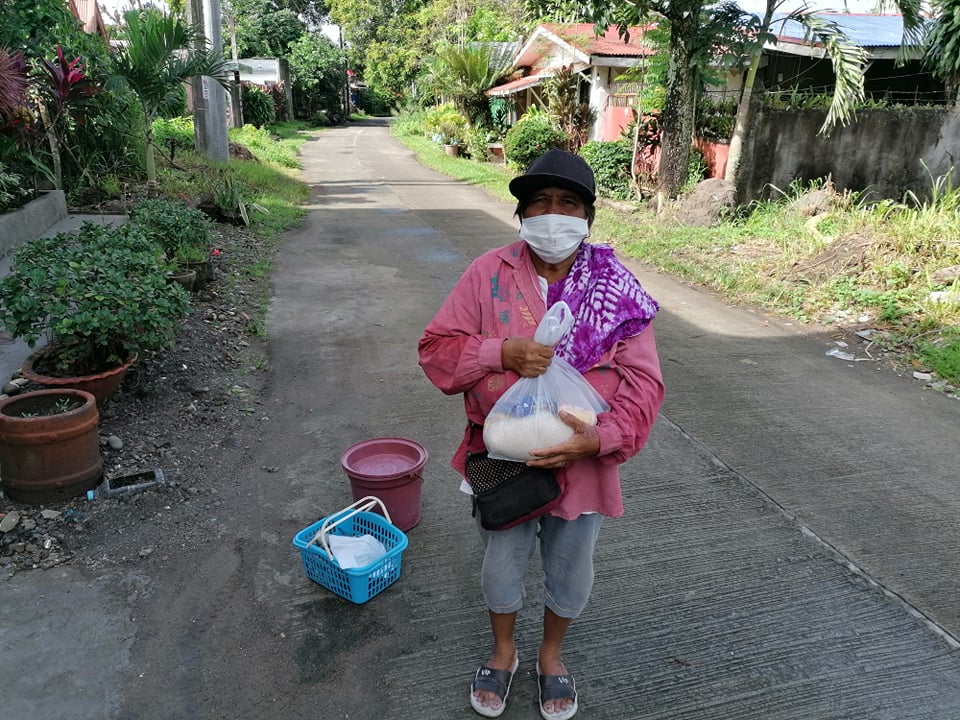 Our last interviewee is dear Lola Susette, aged 58, a fish vendor who regularly wanders around the nearby suburbs to sell her supply. We were humbled that she could spare us a moment of her time to tell her experience with the pandemic:
First off, how is your livelihood so far, from the start of the pandemic up until now?
Amo lang ni eh. Mang libud lang ko nga libud. Amo lang ni ubra ko. Abot ko to sa balay, ma luto lang ko combo, ga ligo.

(This is just it. Just roaming around, selling and selling. This is just my job. When I arrive home, I just cook combo [banana fritters], and take a bath.)
Before the pandemic, did you have a different livelihood or job?
Sang sugud sang pandemic, wa-ay na ko iban nga ubra. Panglibud man.

(At the start of the pandemic, I did not have any jobs. Just roaming and selling.)
In your experience, when have you felt the most impoverished? Was it before the pandemic, or right now, during the pandemic?
Pigado gid ya subong eh. La-in gid ya subong ya. Dasun bana ko daan na-stroke pa.

(I definitely feel very poor right now. It's very difficult right now. Especially since my husband also had a stroke.)
Have you received any help or support from the government because of it? If so, how were you helped?
Daw amo lang to ang bugas. Amo lang to, wa-ay na. Dugay na to, last year pa to.
Subong, wa-ay gid.

(It was just rice. Just that, nothing else. It was long ago already, like last year since. Now, there's nothing.)
Is there anything you'd like to say or ask for from the government?
Mangayo gid kami ya bulig tani eh, kay budlay gid.

(I would definitely ask for help because it really is very difficult.)
The COVID-19 pandemic has dealt a heavy toll on our country, more so on the people whose lives were severely affected. Whether it's the risk of infection and death from the virus, the very low profits gained from their livelihoods due to restrictions, or the surprising lack of aid and support throughout it all, it may seem disheartening and discouraging to hear these stories. Yet, this is our current reality. And, it is one we must face and overcome.
However, just because this may be the situation we are in, does not mean we can't do anything to change it. As Filipino Rotaractors, whose mission is to Serve to Change the Lives of our countrymen, in our hands lie the power, the responsibility, and the will to keep the fight and the hope alive. And hope is indeed coming; the next national elections will be held six months from now, on May 2022. Your vote will help decide the next leaders for our government, and in turn, give that much-needed assistance to our struggling compatriots, and pave the way for the full recovery of our nation. May these stories of our fellow Filipinos inspire you to do your part in the upcoming elections. May they motivate you to carry on the principle of serving others, of giving support and aid to those who need it most.