After 16 years of organizing a regional Rotaract conference and 13 years of building stronger inter-country connection and collaboration through a regional Rotaract committee, the Asia Pacific Rotaract Multi-District Information Organization (MDIO) has finally been formed with 23 member districts (14 as founding members) and officially recognized by Rotary International last September 17, 2020.
Rotaract MDIOs are the only Rotary International recognized Rotaract regional structure which are voluntarily formed by two or more districts in a region for the purpose of strengthening information dissemination and facilitating communication among Rotaract clubs in the participating districts. As per Rotary Code of Policies Section 12.090, Rotaract MDIOs purposes include building a sense of community and common purpose especially aligned with Rotary's strategic objectives and areas of focus in the region; offering leadership opportunities that engage members beyond the club or district; and strengthening the relationship between Rotaract and Rotary at the club, district, zone, and regional level. Rotaract MDIOs also organize multi-district fellowship and service projects.
There are two types of MDIOs existing around the world – national and regional. National MDIOs, such as Pilipinas Rotaract MDIO, Rotaract Australia, and Rotaract in Taiwan, focus on information dissemination, connection and collaboration within a certain country. Meanwhile, regional MDIOs such as the Asia Pacific Rotaract MDIO, focus more on inter-country information dissemination, connection and collaboration.

Asia Pacific Rotaract MDIO covers almost 30,000 Rotaractors in around 1,700 Rotaract clubs in more than 100 districts in 8 Rotary Zones (Zones 1-3 and 8-12) and 25 countries/territories in East and Southeast Asia, Australia and the Pacific Islands. It is headed by a Chairperson who is currently Louie De Real, a dual Rotaractor and Rotarian from the Philippines. Louie was the Immediate Past Chair of Pilipinas Rotaract MDIO. He was one of the few Rotaractors chosen to participate in the Rotary International (RI) Assembly in 2020 held at San Diego, California, USA. He has been constantly invited in various Rotary and Rotaract conferences globally and had the privilege to co-write a Presidential Message with Immediate Past RI President Holger Knaack.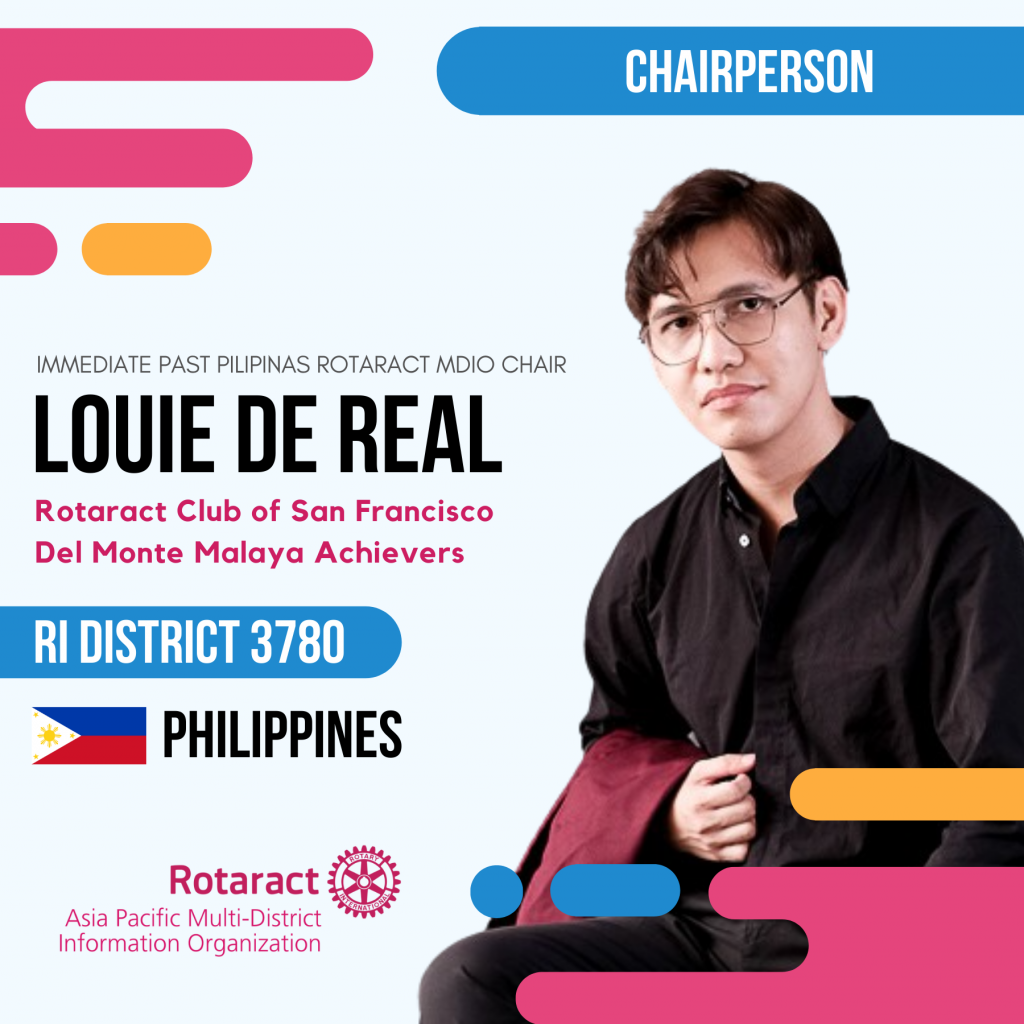 The major event being organized by the Asia Pacific Rotaract MDIO, together with a member district, is the Asia Pacific Regional Rotaract Conference (APRRC). It has served as an opportunity to cultivate the leadership skills of Rotaractors, provide a platform for ideas and cultural exchanges, as well as promote fellowship and service project collaboration. It was initiated in 2004 by Rotaractors from Rotary International District 3450 and the first APRRC was held in Hong Kong. The APRRC has already been held in Taiwan, Philippines, Malaysia, Indonesia, Singapore, Australia, Thailand and Japan.
Due to the COVID-19 pandemic, the 17th APRRC supposed to be held at Penang, Malaysia was converted into a virtual event and happened last March 2021. The 18th APRRC is scheduled on May 21, 2022, to be hosted by RI District 3820 in the Philippines, and will still be held virtually. The 19th APRRC is on January 5-8, 2023 and will be targeted to be a face-to-face conference to be hosted by RI District 3650 and with Seoul, South Korea as the location.
Since the regional MDIO was quite new, the MDIO organized a regional leaders summit to orient and train the Regional MDIO officers, National Representatives, and the District Rotaract Representatives, present and future included, about the fundamentals of the MDIO and district Rotaract operations. The summit was dubbed as the Asia Pacific Rotaract Leaders Summit. It was held virtually last July 24-25, 2021 attended by almost 100 Rotaractor and Rotarian district and regional leaders.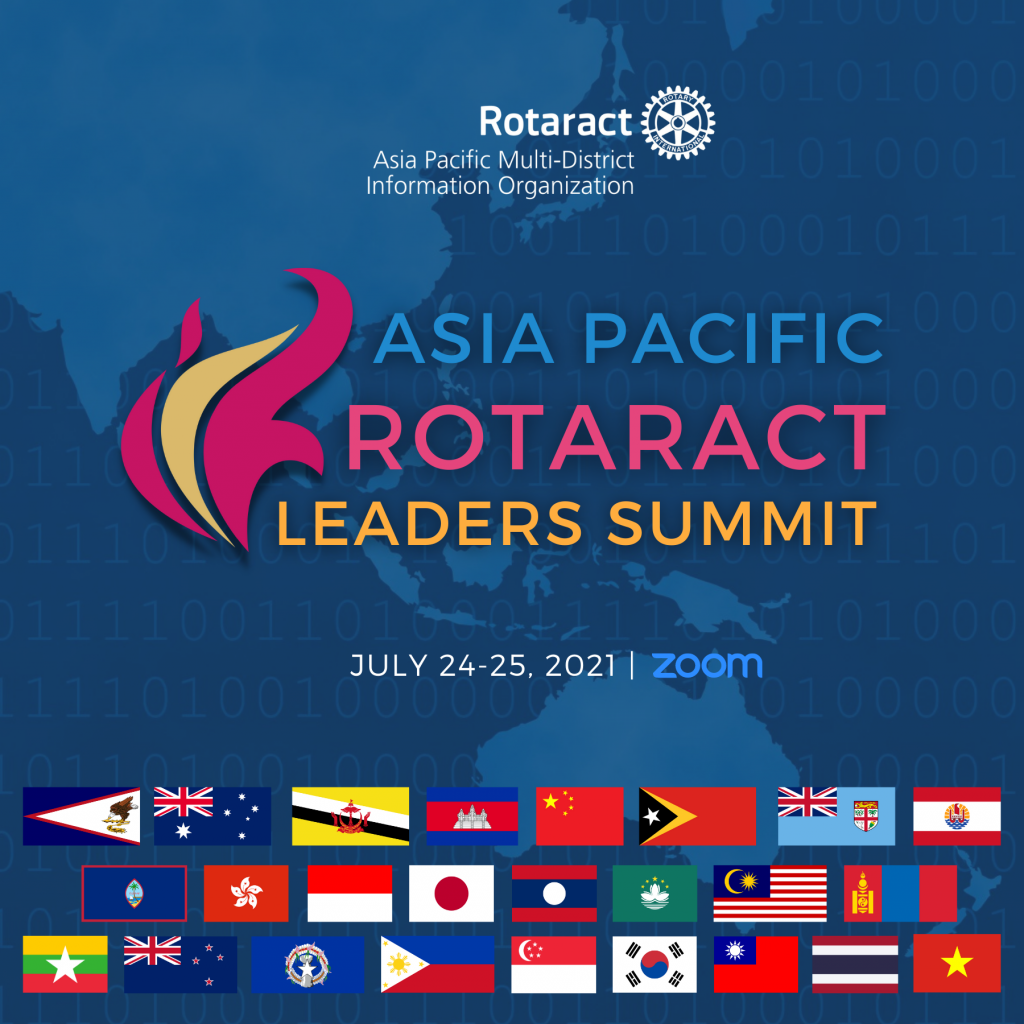 Being an MDIO focused on inter-country collaboration, the MDIO plans to launch a Twin Club Connection Program to help Rotaract Clubs find potential international twin clubs. The MDIO also promotes and facilitates Inter-District Exchanges as opportunities for cultural and ideas exchanges of member districts. The MDIO, with the help of member districts, will also organize quarterly learning sessions focused on helping clubs and members attract and engage members in the new normal, develop and implement projects, identify strategies for fundraising, and prepare for Elevate Rotaract. Quarterly learning sessions are open for participation of Rotaractors across the covered region.
The Asia Pacific Rotaract MDIO also launched a website https://www.asiapacificrotaract.org/ which will be the gateway of Rotaractors to the regional MDIO services. Part of the purpose of the website is to showcase stories and photos of Rotaractors in action.
There are many opportunities for Rotaractors and Rotaract clubs in increasing their impact, expanding their reach, and enhancing their engagement if their district is a member of an MDIO. If a district is not yet a member of the Asia Pacific Rotaract MDIO and would want to be a member since it is not automatic, visit https://www.asiapacificrotaract.org/be-a-member-district.