On March 16, 2020, President Duterte placed the entire island of Luzon under Enhanced Community Quarantine or ECQ as a response to the rising number of COVID-19 cases. Establishments were closed; flights were cancelled; and classes were suspended. Many shifted to a work-from-home set-up and, unfortunately, a lot of people also lost their jobs. What we considered before as 'essential' to our respective day-to-day living suddenly became 'nonsense' and what we considered irrelevant instantly became paramount.
The Friday before the ECQ announcement, I remember staring at people walking on the pavements as I wandered around BGC's 5th Avenue. Some of them were eager to go home, probably excited because that was the last day of work in their physical offices. I realized that these people might have their plans for the quarantine while there I was without any.
I am the type of person who loves being busy. A firm believer that experience is the best teacher, I always had that need in my heart to join activities and do all sorts of stuff. I even tried running for a government position not for the reason of winning, but to experience the campaign itself, explore the world of politics, and meet new people. True enough, the skills and talents that I gained throughout my life are the fruits of countless activities and organizations I joined in. Also, I found life-long friends and connections who truly helped me overcome the hardest of challenges. I gained more than what I lost, and I am very keen to continue living my life with new experiences.
Months have passed and I got a tad bit bored. My life became very routinary because of the remote set-up. Although I gained better control of my time, I realized that my time was being wasted. I have 24 hours a day and I need to spend more than half of it on something aside from work. I need to do something inspiring and exciting. Something that will open the door for me to use my skills and talents. However, the quarantine shut the doors of everything in front of us. No gatherings and activities were allowed and I was getting more bored each day.
It was September 21st of the same year when I came across an advertisement of the Rotaract Club of San Pedro All Star (RACSPA) while scrolling through my Facebook Newsfeed. I reviewed its page and saw activities after activities that they have done during the quarantine. A sudden spike of interest lit up my chest and I immediately signed up for membership. Little did I know that a casual scroll on my social media will turn into a door of opportunity.
As I was traversing my newfound life, I became more aware of what was happening around me. We visited institutions and communities that I never knew existed in my city. I got exposed to the needs of our beneficiaries and, little by little, to the needs of other communities in a larger coverage. I was able to meet individuals that share the same heart and mind as mine. These things were all new to me and the projects I was exposed to became the perfect learning ground. I come home from a project with a fulfilled heart still hungry for more.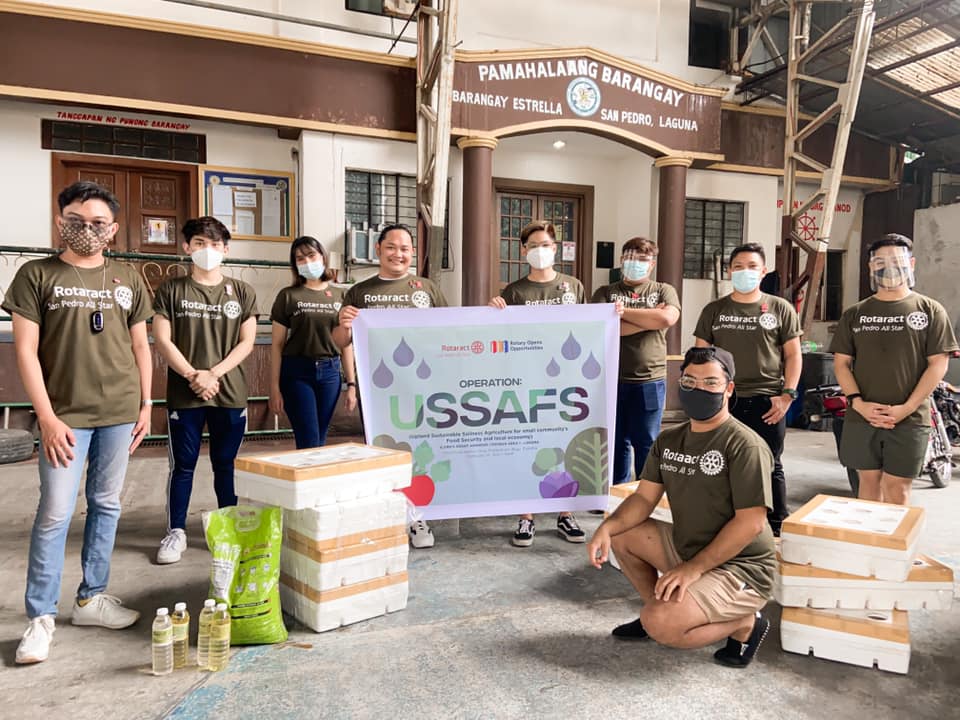 Presently, I am glad that RACSPA has been giving me opportunities to do a lot of things during the quarantine not only for myself, but also for my community. The club already opened a lot of doors for me to experience local and international projects, ranging from civil rights, agriculture, and community work, without risking myself to the pandemic. I gained new friends and connections that are as passionate as I am and they let me use my skills to benefit the club and our community. All of this happened in less than a year and the fact that we are gearing up for bigger and better projects confirms that Rotary indeed opens opportunities.
The pandemic may have caused a lot of doors to close but there is always a door that will open up for anyone. The Rotaract Club of San Pedro All-Star was that open door for me. It opened up a lot of possibilities that I never thought I could experience. It exposed me to what community service is and the importance of having the heart and the mind to serve. I was bored before, but now, I am filled with excitement for projects that can create an impactful change not only for my well-being but also for the community.