With the eagerness to learn various skills and leadership development, a total of 215 participants around the world joined the third session of the Rotary Academy Series.   
The training which tackled Rotaract and Rotary Clubs Collaboration was graced by esteemed speakers, Rotary International Director (RID) Elizabeth Usovicz and panelists IPDRR Alan Yip (RID 3450) and DRC Virgil Patrick Delos Santos (RID3780).  
The Rotary Academy Series was a joint endeavor of Rotary and Rotaract District 3870. Its existence serves as a channel for training and education. This year, the series commenced last July and is set to culminate on December. In each learning session that happens every Wednesday night, a specific topic is discussed and examined by speakers and panelists along with the participation of Rotaract and Rotary members, partners and guests.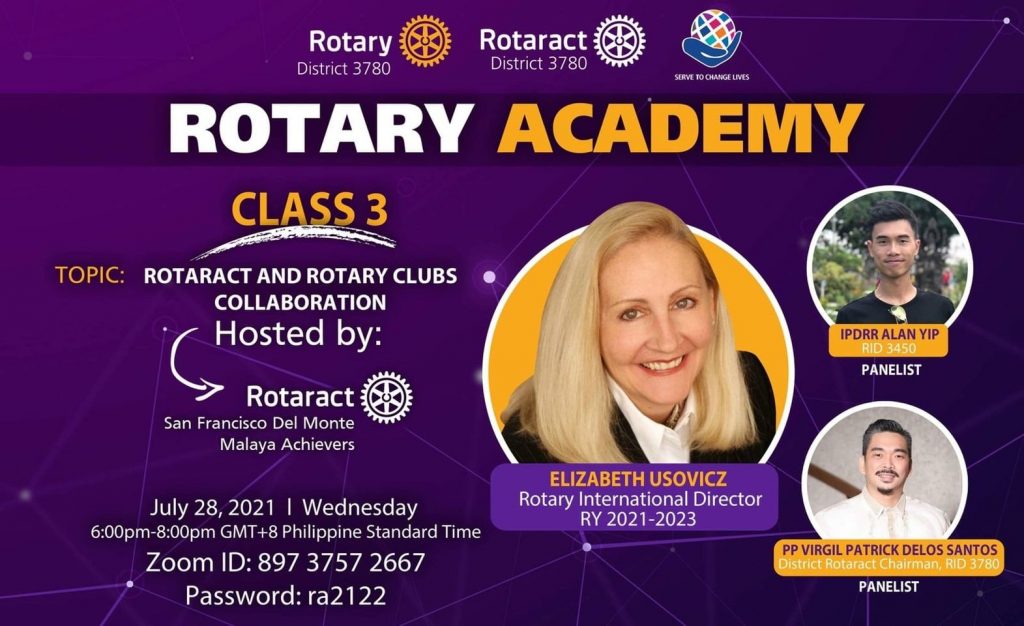 The third session was moderated by PDRR Louie De Real of Rotaract Club of FDM Malaya Achievers. The other key people behind the session was Past District Governor (PDG) Rufino Penny Policarpio III – The Dean of the Rotary International District 3780's Rotary Academy, District Governor Ed Ayento, President of the Rotaract Club of SFDM Malaya Achievers Chun John Ong, District Rotaract Representative (DRR) Dianna Isabelle Desuyo and District 3780 training team.  
As the discussion about the topic on Rotaract and Rotary Clubs collaboration went on, policy changes brought about by the 2019 Council on Legislation were also given attention, particularly on how these policy changes affect structures, operations and undertakings of Rotaract and Rotary Clubs. Though there are perceived cultural and generational differences within and among clubs, as pointed out by Rotary International Director (RID) Elizabeth Usovicz, there are, in fact, simple yet effective approaches that could rise above such hurdles. These are listening and collaboration. One perfect example of this is the 3rd session of the Rotary Academy Series itself. The session paved the way for both Rotaract and Rotary leaders and members to listen to one another and think of potential partnership activities.  
Without a doubt, the third session of Rotary Academy Series highlighted the following salient points:(1) the importance of collaboration between Rotary and Rotaract Clubs, (2) the importance of having the spirit to do greater things in the service of others with fellow Rotaractors and Rotarians, and (3) the importance of unity amidst diversity within and among clubs.